GO! Express & Logistics meets 'It's for Kids'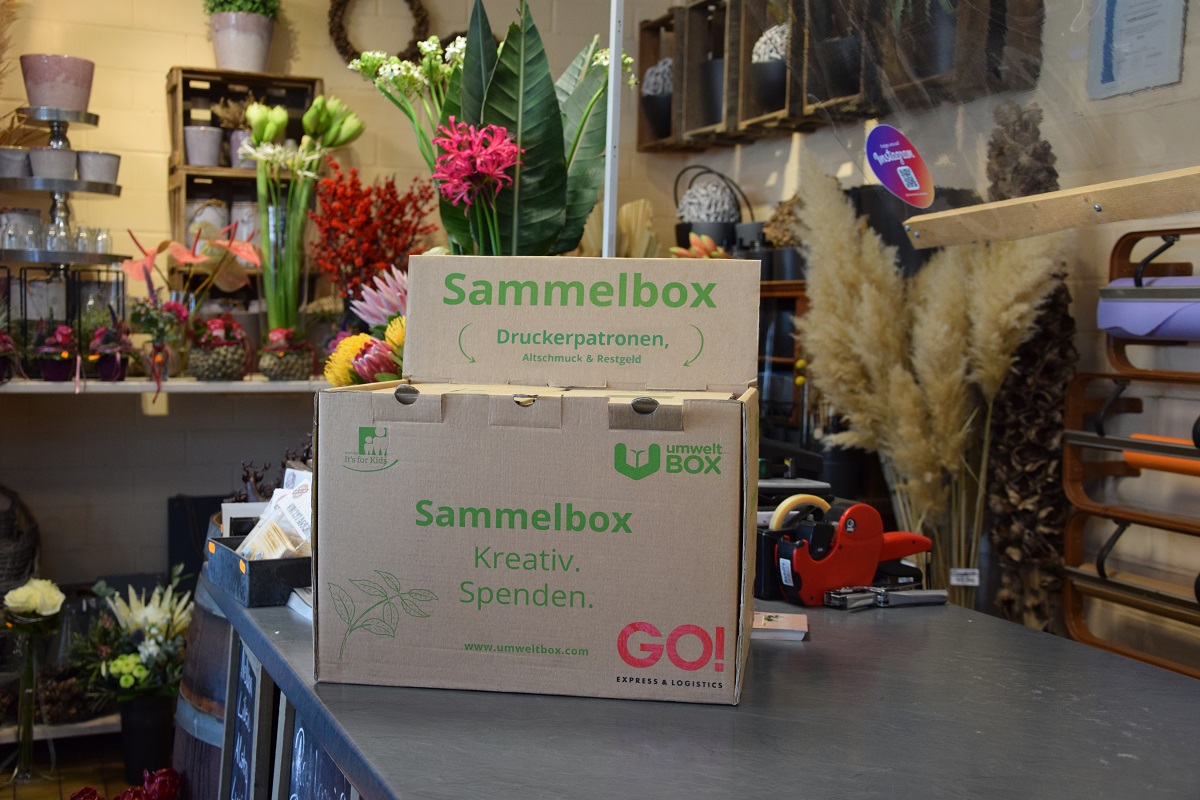 GO! Express & Logistics is now working closely with the 'It's for Kids' foundation for disadvantaged children. Florists will help to collect creative donations, with the proceeds going to support specific aid projects.
GO! and its employees have, for many years now, welcomed their social responsibility in local areas, supporting numerous social projects both with financial aid and with active local commitment. For example, many employees have been identified as potential stem cell donors for the DKMS database, while many more help out on the grounds of the Sternenbrücke children's hospice or lend a hand with food banks.
Collective environment box project
Now, for the first time, GO! has introduced a company-wide project in Germany. GO! has got involved with the 'It's for Kids' foundation for disadvantaged children. 'It's for Kids' collects creative donations with the help of partners – from old jewellery to donations of dental gold, hair and leftover foreign money. These donations in kind, which are usually no longer needed, are recovered and put to re-use, with the proceeds going to support specific aid projects. Between 2018 and 2021 alone, donations amounting to around € 2,800,000 were collected.
Donations are collected in various ways, which is what makes 'It's for Kids' unique. GO! was excited by the idea and discovered that it fits well with the company's philosophy. Regional and system-wide commitment go hand in hand here, with the express service provider providing its valuable expertise in one key area – logistics.
An environment box is first set up at 24 florists chosen by the foundation who would like to participate in this project. Unwanted old jewellery, printer cartridges, and foreign money or old Deutschmarks is collected from local customers in the environment box. GO! is responsible for the delivery and collection of the boxes. After the filled collection boxes are returned, the foundation and its partners then take care of putting the donations to use.
'We are delighted to make a contribution to society through such a valuable project and to do something good for children. Especially if we can put our services to use and offer our support', says Ulrich Nolte, Managing Director of GO! Germany.
The first collection boxes were sent out to florists in October 2022. This will be rolled out throughout Germany in the future.
---
About GO! Express & Logistics
GO! Express & Logistics is Europe's largest independent provider of express and courier services. The global partner network was established in 1984 and currently comprises over 100 GO! stations in Europe. Around 1,400 employees and 1,700 drivers and couriers work every day to enable the transport of more than 9.7 shipments per year (2022).
Under the motto "beyond limits", GO! offers a comprehensive portfolio of logistics solutions ranging from regional courier transportation and global express shipping of goods, documents and extremely time-critical consignments to sensitive shipments or complex customer requirements. Its services also include tailored supply chain solutions and extensive value-added services 365 days a year and around the clock.
Press contact GO!
Andrea Wagner-Neumann | Senior PR Consultant
Bartenbach AG | Kaufmannshof 1 | 55120 Mainz
Phone: +49 6131 91098-31 | E-mail: pr@general-overnight.com