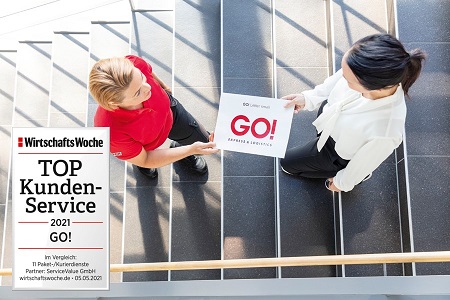 GO! customer service honoured with "TOP"
Due to the Corona pandemic, online trade is growing significantly, and consumers expect better and better customer service. Above all, the points of accessibility and short-term support are essential for good customer loyalty. By the same token, the pandemic has presented companies with new challenges: Processes had to be reorganised without compromising service.
We are therefore particularly pleased to have achieved a top position in the "Parcel/Courier Services" category in WirtschaftsWoche's "Best Customer and Consumer Service 2021" ranking and to have also honoured with "TOP".
The market research institute ServiceValue collected a total of 102,468 consumer opinions on 650 companies and selected the best providers in 40 sectors.
https://www.wiwo.de/unternehmen/dienstleister/ranking-fuer-verbraucher-unternehmen-mit-dem-besten-service-hier-ist-der-kunde-noch-koenig/27141932.html