We are beyond_limits – because they are beyond_limits!
GO! Face of the month September:
N. Posmyk, GO! station Rosenheim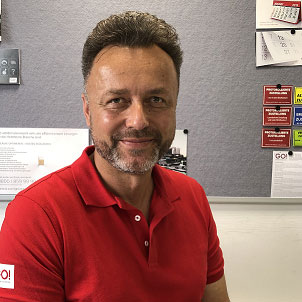 My name is Norbert Posmyk and exactly 20 years ago, on September 1, 2000, my GO! life began at the GO! station in Munich. GO! was already familiar to me at that time, as I already knew the managing director and GO! as a partner in the city courier department of my previous employer.
In the course of 20 years I have worked in almost all departments - whether as an operations employee in customer service, later in the international department, as OPS manager of the GO! station Munich or then in sales. Thus, my love for direct customer contact led to the sales support in Munich in 2012 and I am still loyal to the sales department today. A new challenge which I gladly accepted and in retrospect the best decision for me in my professional career at GO! For three years I have been responsible for the sales department of the GO! station Rosenheim, a small station, but for me it reflects the spirit and family spirit of the company.
As the interface between employees, station management and customers I look back on many great experiences. One of the highlights was certainly the transport of a manta ray with a wingspan of over 2 meters for the Munich Zoo and the transport of Cuban cigars for an ex-chancellor.
As a private person you can find me in the mountains in beautiful Bavaria or at the SpVgg Unterhaching, the soccer club of my son. This closes the circle, because 20 years ago I also started with GO! in Unterhaching.
---
GO! Face of the month August:
T. Martens, distribution area west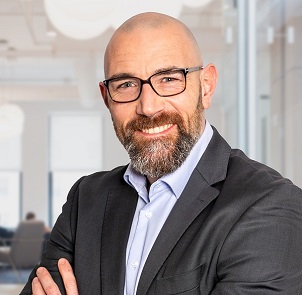 I am Thomas Martens, sales manager at GO! for two and a half years and I am in charge of the GO! stations Aachen, Koblenz, Cologne / Bonn and Mannheim. I spend a large part of my working time working with my colleagues to translate the increasingly special wishes and requirements of our customers into tailor-made logistics concepts and processes that give them the highest competitive advantage. I continuously support my teams and employees to make their talent and untiring commitment tangible for the benefit of all.
And if my face looks familiar to you, that may well be good. Perhaps you have already discovered me on our website or in one of our brochures. After all, it is very important to us that you get an impression of our personality. That's why other GO! colleagues are pictured in our advertisements, brochures and on the website. Take a look - and: we would be pleased if we could get to know you personally.
---
GO! Face of the month July:
J. Neumann, GO! station Augsburg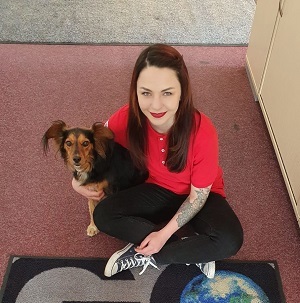 My name is Jennifer Neumann and I have been working at the GO! station in Augsburg in the operating area since November 2019. Originally from the hotel business, I am no stranger to customer wishes and their fulfillment and - thus I managed a smooth transition to my new job.
I am mainly responsible for the acceptance of customer orders - so it is a pure office job. As a welcome compensation, I have taken over the management of our high-availability warehouse. Here I take care of the storage and retrieval of important spare parts or goods that are called up by our customers at short notice and then have to be transported to the place of use as quickly as possible.
What fascinates me most about the Operations department is that, due to the many different customer requirements and the resulting mostly tailor-made solutions - which we naturally handle with the greatest care and a high degree of reliability - you can end the working day every day without boredom and with new experiences. And when the satisfied customers then let you know that you are actively supporting them in their business, this gratitude is like applause for an artist.
---
GO! Face of the month May:
F. Runzheimer, HUB Niederaula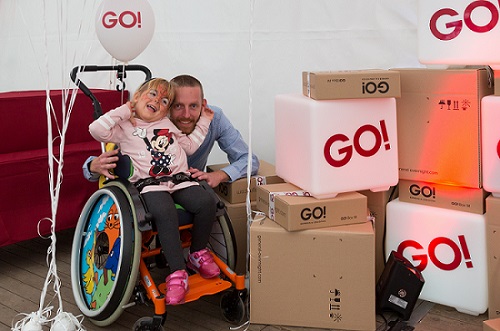 My name is Florian Runzheimer and I have been working at GO! for more than 17 years now.
I started in 2003 as a courier, in order to fund my degree course; following various student internships, I then signed on permanently with GO! Mainz and am now deputy operations manager at our central HUB in Niederaula. What happened the previous night is analysed early the next morning, incoming enquiries need to be responded to quickly and preparations have to be made for the night ahead, e.g. by us undertaking detailed staff planning based on shipment quantity forecasts and scheduling route vehicles. We are also in close consultation with our clients as well as with station and head office colleagues – therefore the phone rarely, actually never stops ringing. My day-to-day work is really varied – like the life with my daughter – and no two days are the same. Constant new challenges and our flexible reactions to them are what make working at GO! so interesting. Everything hinges on your colleagues. I am proud of having such a great team to support me.
---
GO! Face of the month March / April:
W. Welge, GO! station Hanover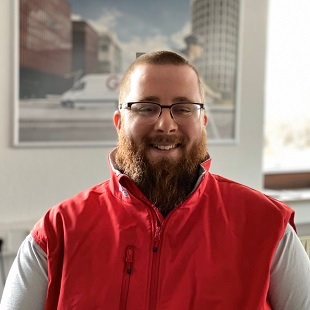 I am 31 years old and a specialist in warehouse logistics by profession. Before I joined GO!, I was a regular soldier in the Logistics Battalion of the German Armed Forces for eight years. In the course of a vocational promotion measure to become a "IHK Logistikmeister" (Chamber of Commerce and Industry Logistics Master Craftsman), I joined the GO! station in Hanover as a trainee. Since October 2019, my work area has been export and I am responsible for outbound shipments at GO! Hanover. The most exciting working hours are often Friday evenings when many challenges await you.

Even in the current situation with all the restrictions and additional precautions around the coronavirus, I - just like my colleagues - do not let myself get carried away. We want to continue to support our customers reliably, quickly and flexibly. And so far we have succeeded in doing so!