BIEK CEP Study 2022 published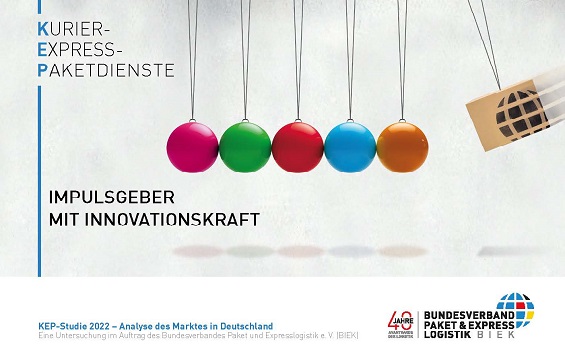 New record: over 4.5 billion shipments - double-digit growth again in 2021
BIEK Chairman Marten Bosselmann finds the right words: "Rarely has it been as clear as in recent years that parcel services can be relied on when it counts. In the pandemic, they keep people's everyday lives and the economy running. The industry continues to master the uncertainties of Brexit with confidence and flexibility.
And now this: we are speechless in the face of the war that has broken out in the middle of Europe. The human suffering in Ukraine affects us all deeply, and what is happening there also confronts the CEP sector in Germany with uncertainties on an unimagined scale. The consequences of the war cannot be calculated at the moment. But one thing is nevertheless certain: in the future, too, CEP services will stand their ground as a rock in supplying the population, even if this will be associated with unforeseen challenges."
And so it comes as no surprise that the courier, express and parcel industry (CEP) in Germany has again grown disproportionately strongly. The volume of consignments rose by around 460 million CEP consignments, a total of 4.51 billion consignments were transported. Shipments to end consumers (B2C shipments) increased particularly strongly. These and many other results are provided by the CEP Study 2022, which was presented by the Bundesverband Paket und Expresslogistik (BIEK) in Berlin on 15 June 2022.
The volume of parcel, express and courier shipments in Germany grew by 11.2 % in 2021 and thus in double digits for the second time in a row. Parcel service providers employed a total of 266,000 people in 2021, 10,800 more than the year before.

Source: https://www.biek.de/presse/meldung/kep-studie-2022.html