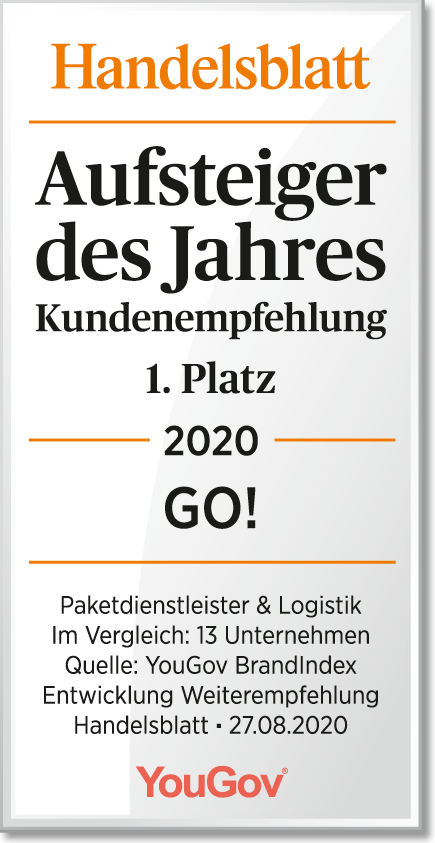 Handelsblatt crowns GO! Climber Brand of the Year 2020
Customer recommendation league table – GO! in 1st place among parcel and logistics service providers and 6th place among TOP climbers
"Which brand would you recommend to others?" This question was posed to around 2,000 consumers every day for over a year by market research institute YouGov on behalf of Handelsblatt. Some 1,400 brands from a very wide range of different industries were available to choose from. These representative rankings have now been published and GO! has claimed two top spots.
"I would recommend GO!", was the most frequent response in the "Parcel Service Provider and Logistics" category. The Bonn-based express delivery and courier service provider won the race in this category for the first time, in terms of customer recommendations, made the most gains at an increase of 8.3 points (absolute value: 46.7 points) and relegated the other 12 named competitors to also-rans by some distance. The Bonn-based courier and express delivery service provider also scored points outside of its own industry: GO! also made it into the overall Top 10 of highest climbing brands, ending up ranked 6.
"We are delighted with the superb rankings we have achieved and regard them as an endorsement of our customer-focused work, where we always go beyond limits to make things happen", said a statement by GO! headquarters in Bonn. Brands' ascertained recommendation potential is generally regarded as the benchmark of image enhancement, which is definitively associated with customer satisfaction. And that's precisely the secret of GO!'s success. "We are intentionally operating in a niche", says authorised officer Martina Baerecke. And compares the services that GO! provides with those of a bespoke tailor. "Our service is not off-the-peg. We have the flexibility to match our services to our customers and tailor them to their specific needs."
The company attributes this significant increase in customers' willingness to recommend it to others to a large extent to the way it specifically looks after its customers. "We rely on dedicated personal contacts, who provide customers with close support throughout all phases of their assignments and beyond." GO! customers always know whom they can contact with any concerns, because: "we don't have a call centre, but local contacts in our more than 100 stations."
About YouGov BrandIndex
The data was surveyed as part of YouGov BrandIndex and published exclusively by Handelsblatt (issue dated 27 August 2020). YouGov conducted more than 900,000 representative online interviews from 1 July 2019 to 30 June 2020 inclusive and got the German population to rate around 1,400 brands. The representatively chosen consumers were able to award points tallies of between minus and plus 100 points in each case. The data collected this way is continuously updated and compared with the same period in the previous year. This generated a list of the top climbers in 31 categories that managed to increase their recommendation potential the most within the space of one year. Source: YouGov Brandindex and Handelsblatt, issue dated 27 August 2020, P. 42.
https://yougov.de/loesungen/brandindex
https://www.handelsblatt.com/unternehmen/handel-konsumgueter/image-ranking-das-sind-die-aufsteigermarken-des-jahres/26137004.html
---
About GO! Express & Logistics
GO! Express & Logistics is Europe's largest independent provider of express and courier services. The global partner network was established in 1984 and currently comprises over 100 GO! stations in Europe. Around 1,400 employees and 1,700 drivers and couriers work every day to enable the transport of more than 8 shipments per year (2020)
Under the motto "beyond limits", GO! off ers a comprehensive portfolio of logistics solutions ranging from regional courier transportation and global express shipping of goods, documents and extremely time-critical consignments to sensitive shipments or complex customer require-ments. Its services also include tailored supply chain solutions and extensive value-added servic-es 365 days a year and around the clock.
Press contact at GO! Germany
Diana Rieth
Bartenbach AG
An der Fahrt 8
55124 Mainz
Telefon: +49 6131 91098-112
E-Mail: pr@general-overnight.com

Andrea Wagner-Neumann
Bartenbach AG
An der Fahrt 8
55124 Mainz
Telefon: +49 6131 91098-113
E-Mail: pr@general-overnight.com