Overnight services and scheduled deliveries
Exchange Services and Technical Couriers
Spare parts and repair logistics
Equipment logistics including commissioning
High availability logistics including warehousing
24 / 7 emergency services 365 days a year
Product-specific load securing
Packaging services including return transport and disposal
---
---
It sounds trivial, but it is actually a challenge to deliver large quantities to the right place on time. Especially when our technology is used at events, we depend on punctuality and reliable delivery. That's why we can't afford to skimp on reliable delivery in our planning.
---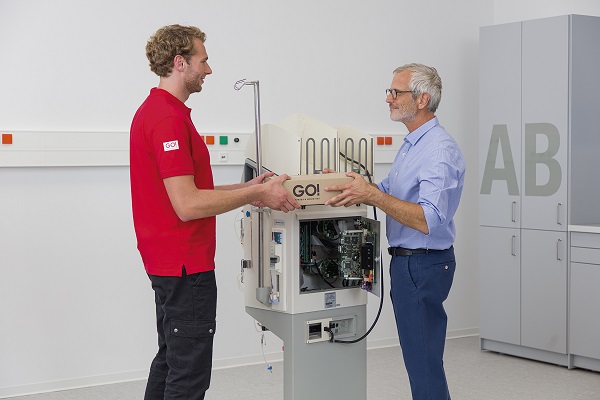 Secure time-critical delivery and storage at all times
Our customer, a service provider for the high-tech‑ industry, supplies customers and technicians across Europe with spare parts for a wide range of industries - from medical technology to telecommunications - as part of a holistic supply chain solution. A crucial part of this: GO! In 23 GO! stations, customer-specific emergency warehouses have been set up for the supply of spare parts. In addition to permanent availability, the decisive factor is, of course, the fastest possible delivery. In this case 2,000 ‑ times a month - nationwide. This was only possible thanks to the particularly flexible GO! on-call service and close communication with the customer.
The result: within 120 minutes of receiving the order, the right spare part is delivered throughout Germany. The customer or directly the service technician has the spare part in his hands. No matter on which day and at which time the spare part was requested. If a defective device is reported to the GO! customer's service centre, an order is automatically sent to its central spare parts warehouse. The warehouse informs one of the GO! high availability depots from where the spare part is sent by a GO! courier on the fastest route to the customer or to the responsible service technician.
---