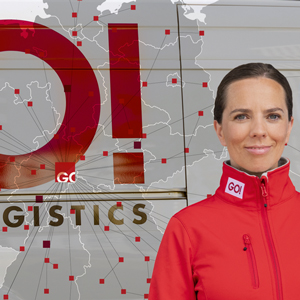 Hand in hand – that's our working style at GO! Our extensive, high-performance logistics network coupled with optimum route management enables us to get your shipments on the road quickly. And delivered to where they are needed in a minimum of time. Even round the clock using our emergency warehouses.
Just like in your business, an effective network is what makes our company GO! around. And the best thing about it is it benefits you in particular. Our 100+ GO! stations and 7 HUBs throughout Europe are interlinked by a sophisticated route system. That guarantees very fast
lead times and the shortest possible transport routes.
The heart of the GO! system beats at our central HUB in Niederaula/Hesse: more than 7,600 sqm of dedicated logistics space – equipped with state-of-the-art technology. The network of more than 300 routes, which serves 60 stations in Germany and roughly another 40 in Denmark, Luxembourg, Austria, Poland, Czech Republic, Slovakia and Switzerland, is coordinated from here. Added to that are global links via a network of permanent partners.
Flexibility, quality, reliability and cost effectiveness are the big four factors that we reconcile every day. Here route planning and sorting schedules as well as available resources like transport capacity and staff, dovetail perfectly. That means our level of network service and performance is way above the comparable market standard. For you that means reliable logistics services involving very short transit times – even if you have specific requirements.
Your benefits
development of company-specific concepts, e.g. tailor-made high-availability concepts
express network with more than 100 GO! stations
extensive network of emergency warehouses, including custom warehousing options, nationwide emergency supply service available within 2 or 4 hours
assurance of permanent product availability
numerous additional services such as scheduled deliveries, reliable pick-up service as standard
highest quality and safety standards with lowest damage/loss rates
orders can be received late in the day, extra-late cut-off times, e.g. until midnight at our central HUB as standard
24 / 7 service availability, 365 days a yea